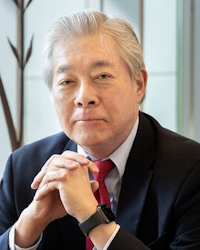 Glen S. Fukushima is a Senior Fellow at the Center for American Progress, where he focuses on U.S.-Asia relations. Before joining CAP in 2012, he was based in Asia for 22 years as a senior executive with one European and four American multinational corporations, including AT&T and NCR, and he served on the corporate advisory boards of the Industrial Bank of Japan and Daiwa Securities and on the board of directors of Mizuho Financial Group and Fidelity International Funds. He was elected to one term as Vice President and two terms as President of the American Chamber of Commerce in Japan.
Prior to his business career, he served in Washington, D.C. at the Office of the United States Trade Representative (USTR) as Director for Japanese Affairs and as Deputy Assistant United States Trade Representative for Japan and China. During the Clinton Administration, he was appointed as Vice Chair of the Japan-United States Friendship Commission.
A native of California, Fukushima is a member of the Council on Foreign Relations, Global Council of the Asia Society, President's Leadership Council of the Asia Foundation, Board of Councilors of the U.S.-Japan Council, Advisory Committee of Harvard University's Asia Center, and Leadership Council of the Harvard Law School. He has served as a Visiting Professor at Kyoto University, Waseda University, and Sophia University in Japan.  He earned his B.A. at Stanford University, M.A. at Harvard University, and J.D. at the Harvard Law School. He also studied at the Harvard Business School and was a Fulbright Fellow at the Faculty of Law, University of Tokyo.