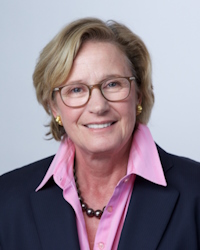 During her 30-year career in the financial services sector, Ms. Slacik has received recognition for her work in financial restructurings, risk management, corporate finance, and trade finance.
After an early career at Bankers Trust Company, Ms. Slacik spent 17 years at Citigroup, where she was global head of asset-based lending as well as trade services and finance. She was then Chief Executive Officer for JP Morgan's securities services business in Europe, the Middle East and Africa. President Barack Obama appointed her to the Export-Import Bank of the United States as its Chief Banking Officer.
Ms. Slacik is currently on the Board of Governors of Junior Achievement Worldwide and the Consistory of the Collegiate Churches of New York where she is also the Chair of the Investment and Endowment Committee which is responsible for its $200 million portfolio.
Ms. Slacik is a graduate of Smith College and received her MBA from New York University. In 2018, she was a Fellow in Harvard's Advanced Leadership Institute.